1940
Second London County Council evacuation scheme completed, with 100,000 children moved to the West Country and Wales.
Germans troops cross the River Loire in strength as an armistice between France and Germany is signed at Compiegne. Its terms are read out loud to the French delegation by Generaloberst Keitel and provide for the occupation of the entire Channel and Atlantic coastlines, all major industrial areas, Alsace-Lorraine is to be returned to Germany. Most of southern France will remain unoccupied, with a French administrative centre at Vichy. The French Army and Navy is to be demobilized and disarmed and France is to bear the cost of the German occupation. All French prisoners of war are to remain in Germany until a peace treaty is signed.
French representatives fly to Rome to negotiate with Mussolini.
Italians bomb Alexandria, Egypt.
Marshal Pétain closes Indochina route to China. Churchill closes Burma Road to avoid war with Japan.
1941
Just after midnight the Red Army is given orders to come to combat readiness, although they were still not allowed to occupy battle positions. At 3:15am, Operation 'Barbarossa' (MAP) begins with German and Axis forces comprising 183 divisions (3,500,000 men), 3,350 tanks, 7,184 guns and 1,945 aircraft launching the biggest military operation in history on an 1,800-mile front from 'Finland to the Black Sea'. Three Army Groups supported by powerful Panzer armies and Luftwaffe bomber fleets, Army Group South (von Rundstedt) with Panzer Group 1 (von Kleist), Army Group Centre (von Bock) with Panzer Groups 2 (Guderian) and 3 (Hoth), and Army Group North (von Leeb) with Panzer Group 4 (Hoepner), go into action against 132 Soviet divisions (2,500,000 men), 20,000 tanks and 7,700 aircraft. The overall objective of the campaign is to destroy the Soviet forces in western Russia by the Autumn and to occupy the European part of the Soviet Union up to the line Archangel – Urals – Volga – Astrakhan. By the end of the first day, the Luftwaffe had destroyed 800 Soviet aircraft on the ground at 60 airfields and 400 in the air. The Red Army along the border seemed unprepared for the assault and offered only limited resistance, which allows the Panzer divisions to advance up to 50 miles and maul 12 Soviet divisions.
[youtube width="640″ height="385″ video_id="8L-GBHNNqrQ"]
Churchill calls the German invasion of Russia, 'the fourth turning point of the war' and offers to give whatever help we can.
Italy declares war on Soviet Union. Romanians enter Bessarabia to regain it. Slovakia severs diplomatic relations with the Soviet Union.
Japan proposes 120-day plan to conquer South by March 1942.
1942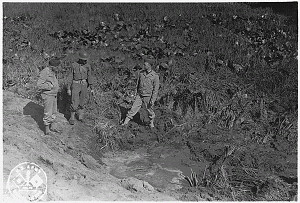 A Japanese submarine shells Fort Stevens at the mouth of the Columbia River.
1944
President Roosevelt signs the GI Bill of Rights which promises generous benefits for returning US servicemen.
Allied planes drop 1,100 tons of bombs on Cherbourg.
An all-out ground attack begins against Cherbourg.
The communist organized sabotage group BOPA, attacks the Danish arms factory "Riffelsyndikatet" ("the Rifle Syndicate") in Copenhagen.
The Russian summer offensive, operation 'Bagration' begins against Army Group Centre in Byelorussia with assaults by the Soviet 1st Baltic, 3rd Belorussian 2nd and 1st Belorussian Fronts against Army Group Centre on a 450 mile front between Polotsk and Bobruysk. Soviet forces amount to 124 divisions, 1,200,000 men, 5,200 tanks, 30,000 guns and 6,000 aircraft. Against this, the German can field just 63 divisions, including 900 tanks and 10,000 guns. The Luftwaffe launches a surprise night raid (60 aircraft) on the US 8th Air Force's shuttle base at Poltava in the Ukraine, destroying 44 B-17s and 500,000 gallons of fuel.
The British 2nd Division and 5th Indian Division meet on the Kohima-Imphal road, which is now completely clear of Japanese, lifting the 88-day siege of Imphal. The 'Chindits' begin an offensive on Mogaung in northern Burma.
1945
Japanese resistance ends on Okinawa as the U.S. Tenth Army completes its capture.
Take a look at these other WWII Posts: