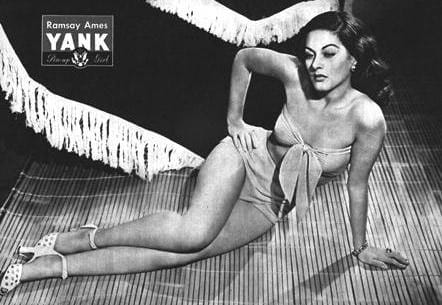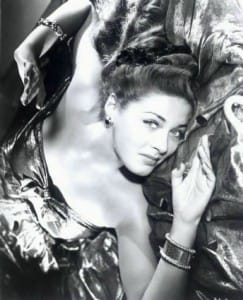 Despite being one of the great exotic screen beauties of the early '40s, Ramsay Ames never broke out of leading roles in B-movies and supporting parts in A-films. She was born Ramsay Phillips on March 30, 1921 in Brooklyn, New York (her reported year of birth varies from 1921 to 1924, depending on the source), and was a student athlete (especially excelling as a swimmer) in high school. She attended the Walter Hillhouse School of Dance, specializing in Latin-style dance, and also took up singing, becoming the vocalist with a top rhumba band. She later became part of a dance team under the name Ramsay Del Rico, and appeared as a model at the Eastman Kodak-sponsored fashion show at the 1939 New York World's Fair. A back injury sidelined her from dancing and fate intervened: in the course of a trip to California to visit her mother, she had a chance meeting at the airport with Harry Cohn. He was the president of Columbia Pictures and the meeting resulted in a screen test and then her 1943 movie debut, "Two Senoritas From Chicago" (1943). From there she moved to Universal, where she was cast in key roles in movies such as "The Mummy's Ghost", in which she was the hapless modern victim of the ancient curse of Kharis the Mummy, and major supporting parts in pictures like "Calling Dr. Death" (1943), "Ali Baba and the 40 Thieves" (1944), and "Follow the Boys" (1944).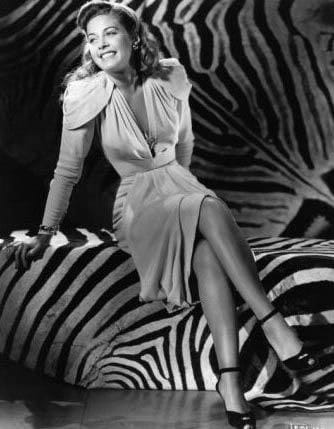 With her dark good looks and statuesque, athletic yet attractive physique, Ames was ideal in portrayals of exotic roles, such as the Egyptian student in her Mummy movie and the French and Latin women she often got to play. She was also good in physically demanding action roles. During the mid-'40s, she made a pair of Cisco Kid movies with Gilbert Roland, "The Gay Cavalier" (1946) and "Beauty and the Bandit" (1946). In the first, Ames is credited in some sources with co-authoring one of the songs, and in the second, she brought a good deal of fire and humor to a script that, for the first half, resembled a cowboy version of "As You Like It".
Ames had small roles in major movies like "Mildred Pierce" (1945) and the epic-length "Green Dolphin Street" (1947), but by the second half of the 1940s she was locked into B-features such as PRC's low-budget "Philo Vance Returns" (1947) and was also working at Republic in serials such as "The Black Widow" (1947) and "G-Men Never Forget" (1948). She gave up acting and Hollywood at the end of the 1940s and for many years lived in Spain, where she had her own television interview show and occasionally took acting roles in films produced in Europe. Her later movies included the features "Alexander the Great" (1956) and Carol Reed's 1963 thriller "The Running Man". She returned to the United States in the early '60s and was married to playwright Dale Wasserman, best known for Man of La Mancha, until their divorce in 1980. She died of lung cancer on March 30, 1998 in Santa Monica, California.