Home Page › WW2 Pin Up Girls › Lucille Ball Yank Pin Up March 23, 1945
Lucille Ball will always be remembered as the crazy, accident-prone, lovable Lucy Ricardo was born Lucille Desiree Ball in Jamestown, New York, on August 6, 1911. Her father died before she was four, and her mother worked several jobs, so she and her younger brother were raised by their grandparents. Always willing to take responsibility for her brother and young cousins, she was a restless teenager who yearned to "make some noise". She entered a dramatic school in New York, but while her classmate Bette Davis received all the raves, she was sent home; "too shy." She found some work modeling for Hattie Carnegie's and, in 1933, she was chosen to be a "Goldwyn Girl" and appear in the film Roman Scandals (1933).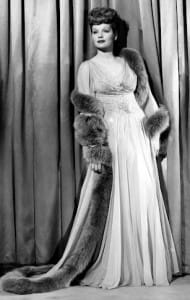 She was put under contract to RKO and several small roles, including one in Top Hat (1935), followed. Eventually, she received starring roles in B-pictures and, occasionally, a good role in an A-picture, like in Stage Door (1937) or The Big Street (1942). While filming Too Many Girls (1940), she met and fell madly in love with a young Cuban actor-musician named Desi Arnaz. Despite different personalities, lifestyles, religions and ages (he was six years younger), he fell hard, too, and after a passionate romance, they eloped and were married in November, 1940. Lucy soon switched to MGM, where she got better roles in films such as Du Barry Was a Lady (1943); Best Foot Forward (1943) and the Katharine Hepburn-Spencer Tracy vehicle Without Love (1945). In 1948, she took a starring role in the radio comedy "My Favorite Husband", in which she played the scatterbrained wife of a Midwestern banker. In 1950, CBS came knocking with the offer of turning it into a television series. After convincing the network brass to let Desi play her husband and to sign over the rights to and creative control over the series to them, work began on the most popular and universally beloved sitcom of all time.