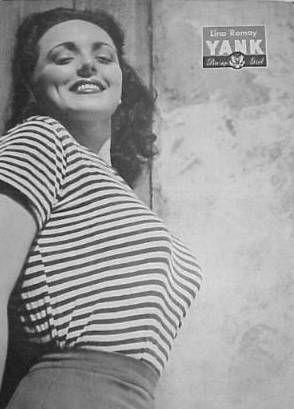 Maria Elena "Lina" Romay was a Mexican-American actress and singer. She was born on January 16, 1922 to Porfirio Romay, the attache to the Mexican Consulate in Los Angeles. She performed for a time with Xavier Cugat.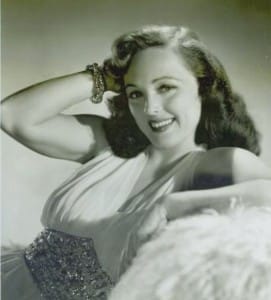 The Latin-American singer/actress Lina Romay was active in films from 1942 to 1952. She came to Hollywood under contract to Columbia, then worked briefly at MGM and RKO. In 1949, she began a three-year run as featured vocalist on the TV series "Paul Whiteman's Goodyear Revue". She can be seen in such stellar movies as "You Were Never Lovelier" (1942) starring Fred Astaire and Rita Hayworth and "Bathing Beauty" (1944) starring Esther Williams and Red Skelton. She attracted the attention of servicemen worldwide as a stunning Latin beauty and appeared in "Yank" Magazine as a pinup girl or cover girl in other publications. She also appeared in several Soundies of the era, no doubt having been selected because of her exceptional singing voice and uncommon good looks. Being of Mexican heritage, and having been born in the USA, Miss Romay could sing equally as well in both English and Spanish and her roles she played were both as Spanish senoritas to non-ethnic Anglo roles.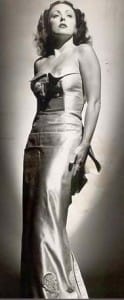 Lina appeared with Xavier Cugat in the WW2 feature "Stage Door Canteen", where she can be seen singing and even dancing a bit with Cugat, with the delightful song "A Bombshell From Brooklyn". Lina reminds some of enchanting Carmen Miranda, especially in her excellence in singing and stage presence as seen in "The Heat's On" (1943). She is top notch in this picture, as evidenced by her fabulous singing and hand gestures…yes, hand gestures. I don't know if my fellow fans have noticed, but she is perfectly poised a la Miranda while delivering her songs and perfectly gestures with her hands. It's very poetic, feminine and artistic, so if you are lucky enough to see this movie, you'll see what I mean. Several movies later, Lina proves herself a talented actress by appearing in a notable dramatic role in the little gem "Adventure" (1945) with Clark Gable, where she plays Gable's first love interest in the picture (the "girl in a distant port), but second-fiddle to Greer Garson in the picture which boasted the byline "Gables Back and Garson's Got Him". Lina's performance was very convincing and quite important in the movie. She even gets to sing some wonderful Spanish-language songs. Although it was a minor part in the picture, she was no doubt noticed by her growing legion of fans and moviegoers just discovering her charms and talents. Gable's really lucky that he gets to play brief love scenes with Lina, who's simply stunning on the silver screen. Lina nearly steals the show in her next project "Love Laughs at Andy Hardy" (1946), playing Polly Benedict's perky cousin. She charms everybody with a sexy and spirited song and dance near the opening scenes, as her character enchants the townsfolk including Judge Hardy and his family. However, our hero Andy, seems bored and daydreaming of his girl, even while the stunning Lina does the rumba for him. Her infectious smile and cheery personality truly light up the screen. It's an important role for Lina which is still pleasing audiences today. Lina Romay's screen credits should not be confused with those of the same-named actress/director of the 1970s and 1980s.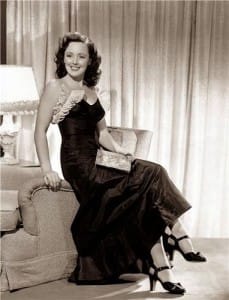 Lina married Dr. Jay W. Gould III, descendant of the railroad financier, at the Westwood Lutheran Church in a ceremony attended only by members of their families. He's 33; she's 34. Gould's the son of Jay and Anne Gould and was married twice before, in 1944 to Jennifer Beryl Bruce, daughter of actor Nigel Bruce, and in 1948 to socialite Blair Roemer Stevens. He has a 6-year-old boy from his marriage to Bruce. On January 13, 1954, her daughter Anne Elena is born early in St. John's Hospital in Los Angeles. On June 8 1956, her daughter Gloria D. is born in Los Angeles. And on April 15, 1961 her son, Jay IV, is born in Los Angeles. Her husband, Dr. Jay W. Gould III dies at age 67 in California.
Lina Romay died of natural causes at Huntington Memorial Hospital in Pasadena, California on Dec. 17, 2010. She was 91.
Take a look at these other WWII Pin Ups: