Gene Tierney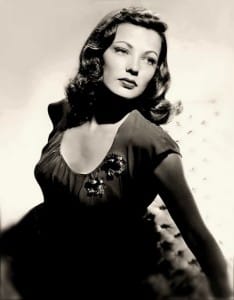 Gene Tierney was born in Brooklyn, New York, on November 19, 1920, to well-to-do parents. Her father was a very successful insurance broker and her mother was a former teacher. Her childhood was lavish indeed. She also lived, at times, with her equally successful grandparents in Connecticut and New York. She was educated in the finest schools on the East Coast and at a finishing school in Switzerland. After two years in Europe, Gene returned to the US where she completed her education.
By 1938 she was performing on Broadway in "What a Life!" and understudied for "The Primerose Path" (1938) at the same time. Her wealthy father set up a corporation that was only to promote her theatrical pursuits. Her first role consisted of carrying a bucket of water across the stage, prompting one critic to announce that "Miss Tierney is, without a doubt, the most beautiful water carrier I have ever seen!" Her subsequent roles "Mrs O`Brian Entertains" (1939) and "RingTwo" (1939) were meatier and received praise from the tough New York critics. Critic Richard Watts wrote "I see no reason why Miss Tierney should not have a long and interesting theatrical career, that is if the cinema does not kidnap her away".
Gene was  spotted by the legendary Darryl F. Zanuck during a stage performance of the hit show "The Male Animal" (1940), Gene was signed to a contract with 20th Century-Fox. Her first role as Barbara Hall in "Hudson`s Bay" (1941) would be the send-off vehicle for her career. Later that year she appeared in "The Return of Frank James" (1940). The next year would prove to be a very busy one for Gene, as she appeared in "The Shanghai Gesture" (1941), "Sundown" (1941), "Tobacco Road" (1941) and "Belle Starr" (1941). She tried her hand at screwball comedy in "Rings on Her Fingers" (1942), which was a great success. Her performances in each of these productions were masterful. In 1945 she was nominated for a Best Actress Oscar for her portrayal of Ellen Brent in "Leave Her to Heaven" (1945). Though she didn't win, it solidified her position in Hollywood society. She followed up with another great performance as Isabel Bradley in the hit "The Razor`s Edge" (1946). In 1944 she played what is probably her best-known role (and, most critics agree, her most outstanding performance) in Otto Preminger`s "Laura" (1944), in which she played murder victim named Laura Hunt. In 1947 Gene played Lucy Muir in the acclaimed "The Ghost and Mrs. Muir" (1947). By this time Gene was the hottest player around, and the 1950s saw no letup as she appeared in a number of good films, among them "Night and the City" (1950), "The Mating Season" (1951), "Close to My Heart" (1951), "Plymouth Adventure" (1952), "Personal Affair" (1953) and "The Left Hand of God" (1955). The latter was to be her last performance for seven years.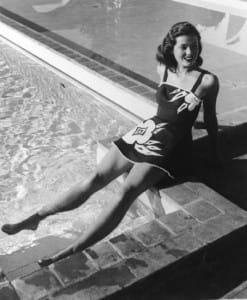 The pressures of a failed marriage to Oleg Cassini, the birth of a daughter who was mentally retarded in 1943, and several unhappy love affairs resulted in Gene being hospitalized for depression. When she returned to the the screen in "Advise & Consent" (1962), her acting was as good as ever but there was no longer a big demand for her services. Her last feature film was "The Pleasure Seekers" (1964), and her final appearance in the film industry was in a TV miniseries, "Scruples" (1980). Gene died of emphysema in Houston, Texas, on November 6, 1991, just two weeks shy of her 71st birthday.
Gene Tierney TRIVIA:
Measurements: 35B-25-36
Height: 5′ 7″ (1.70 m)
Nickname: The Get Girl
Howard Hughes provided the funds for her retarded daughter's medical care.
Had her share of love affairs during her Hollywood reign, including a notorious one with John F. Kennedy, whom she met while filming Dragonwyck (1946). Kennedy broke it up because of his political aspirations. She also had dalliances with Tyrone Power during production of The Razor's Edge (1946) and with Prince Aly Khan in the early 1950s.
Received extensive shock treatment in the 1950s while battling her mental instability.
Tierney was in the throes of suicidal depression and was admitted to the Menninger Clinic in Topeka, Kansas, on Christmas Day in 1957, after police talked her down from a building ledge. She was released from Menningers the following year.
When Gene saw herself on screen for the first time, she was horrified by her voice ("I sounded like an angry Minnie Mouse"). She began smoking to lower her voice, but it came at a great price – she died of emphysema.
Take a look at these other WWII Posts: