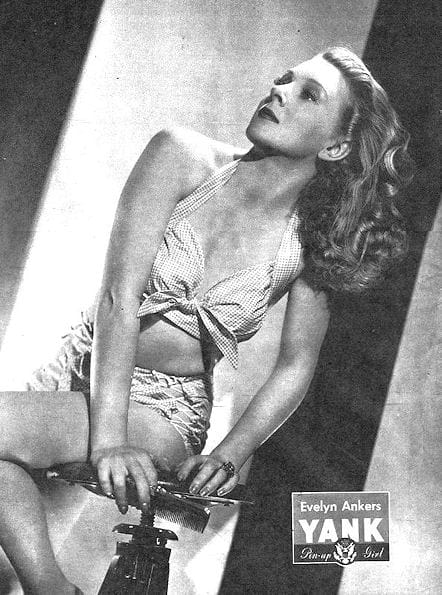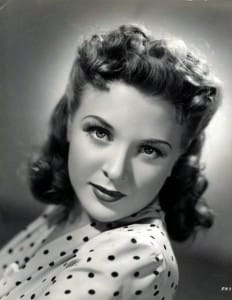 Evelyn Ankers, a beautiful movie actress who was a staple of Universal's horror films in the 1940s, was born in Valparaiso, Chile to English parents on August 17th, 1918. Her parents repatriated the family back to England in the 1920s, and it was in Old Blighty that Ankers developed a desire to become an actress.
She began appearing in small roles in English movies in the mid 1930s while she was still in school. She appeared in "Fire Over England" (1937) with Laurence Olivier and Vivien Leigh and in "Bells of St. Mary's" (1937). A beauty with talent, she soon won starring roles in the low-budget "The Villiers Diamond" (1938) and "The Claydon Treasure Mystery" (1938).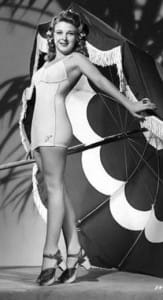 With war clouds darkening the skies over Europe, Ankers emigrated to the United States and was signed to a contract by Universal in 1940. She made her Universal debut in the Abbot and Costello comedy-horror picture "Hold That Ghost" (1941) before appearing in the horror film classic "The Wolf Man" (1941) opposite Lon Chaney, Jr. Ankers found herself cast into the horror picture ghetto, appearing in two more Chaney fright films, "The Ghost of Frankenstein" (1942) and "The Frozen Ghost" (1945) during a period in which she was cast ashore with a sarong-less Jon Hall in "The Invisible Man's Revenge" (1944). She also appeared in support of Basil Rathbone's Sherlock Holmes in "The Voice of Terror" (1942) and "The Pearl of Death" (1944).
Ankers married B-movie hunk Richard Denning in 1942 and made a go articulating the anxieties of the home front while her husband was off to war. Horror flicks were popular during World War II, but after the cessation of hostilities in 1945, they went out of favor with audiences. Ankers' career, mated to the genre at Universal, suffered.
She quit Universal in 1945 and freelanced at Columbia and Poverty Row's Producers Releasing Corporation (PRC) and Republic Pictures in dramas and mysteries. Evelyn co-starred with her returned husband Richard in the major release "Black Beauty" (1946) for 20th Century Fox. For PRC, she headlined "Queen of Burlesque" (1946) and later co-starred with Lex Barker in "Tarzan's Magic Fountain" (1949).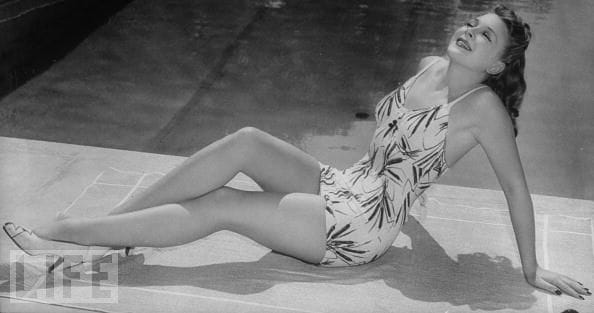 As the 1950s dawned, a decade of conformity and family values, Ankers quit the movies for married life and motherhood after making "The Texan Meets Calamity Jane" (1950), in which she was first-billed. She was 32 years old. A decade later, Ankers came out of retirement to make one final screen appearance, in her hubby's "No Greater Love" (1960).
Evelyn Ankers died of ovarian cancer on August 29, 1985 in Haiku, Maui, Hawaii, twelve days after her 67th birthday.
Evelyn Ankers TRIVIA:
Height: 5′ 8″ (1.73 m)
She was called "Queen of the Screamers" on account of her blood-curdling vocal outbursts in "B" suspense thrillers of the '40s.
Ankers was engaged to actor Glenn Ford, but Ankers broke the engagement when she met Richard Denning while Ford was on location.
Evelyn's husband, Richard Denning, had a recurring role on Hawaii Five-O as the governor of Hawaii from 1968-80. Sadly, Evelyn never put in appearance as the First Lady of the Aloha State even though she'd been offered the role. She was quite contented with retirement.
Buried at Maui Veterans Cemetery, Makawao, Hawaii next to her husband Richard Denning, who served in the US Navy during WWII and served on a submarine as Yeoman 1st Class in the South Pacific.
Check out these other Pin Ups: