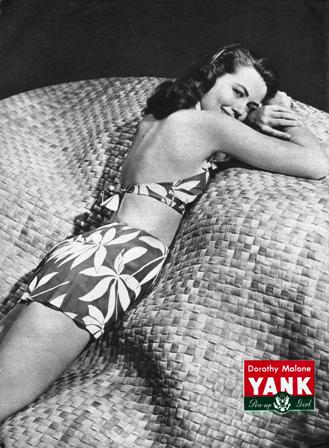 Dorthy Malone was born Dorothy Eloise Maloney in Chicago, Illinois on January 30, 1925. The family moved to Dallas, Texas, where she worked as a child model and began acting in school plays at Ursuline Convent and Highland Park High School. While performing at Southern Methodist University, she was spotted by a talent agent for RKO and was signed to a studio contract, making her film debut in 1943 in The Falcon and the Co-Eds.
Much of Malone's early career was spent in supporting roles in B-movies, many of them Westerns, although on occasion she had the opportunity to play small but memorable roles, such as that of a brainy, lusty, bespectacled bookstore clerk in "The Big Sleep" (1946) with Humphrey Bogart, and the love interest of Dean Martin in the musical-comedy "Artists and Models" (1955).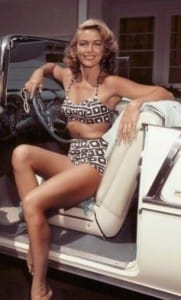 By 1956, Malone had transformed herself into a platinum blonde and shed her good girl-image when she co-starred with Rock Hudson, Lauren Bacall, and Robert Stack in director Douglas Sirk's melodrama "Written on the Wind". Her portrayal of the dipso-nymphomaniac daughter of a Texas oil baron won her the Academy Award for Best Supporting Actress. As a result, she was offered more substantial roles in "Too Much, Too Soon" (1958), where she portrayed Diana Barrymore, "Man of a Thousand Faces" (with James Cagney – 1957), and "Warlock" (with Henry Fonda and Richard Widmark – 1959). Additional screen credits include "The Tarnished Angels" (in which she reunited with former co-stars Hudson and Stack and director Sirk – 1957), "The Last Voyage" (with Stack – 1960) and "The Last Sunset" (with Hudson – 1961).
In the 1963-1964 season, Malone guest starred on Jack Palance's ABC circus drama "The Greatest Show on Earth". Thereafter, she became a household name when she accepted the lead role of Constance MacKenzie on the ABC prime time serial "Peyton Place", on which she starred from 1964 through to 1968. She had a featured role in the miniseries "Rich Man, Poor Man" (1976). Her last screen appearance came as a mother convicted of murdering her family in "Basic Instinct" (1992), appearing with Michael Douglas and Sharon Stone.
Malone has been married and divorced three times and has two daughters, Mimi and Diane, from her first marriage to actor Jacques Bergerac. Her star in the Hollywood Walk of Fame is located at 1718 Vine. As of 2009, Malone is retired and living in Dallas, Texas.
Take a look at these other WWII Pin Ups: