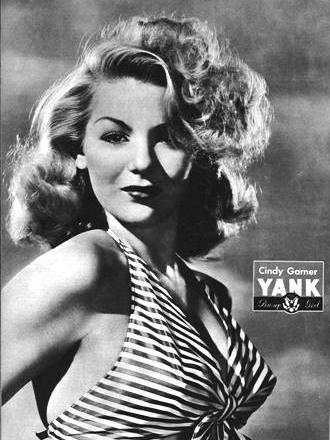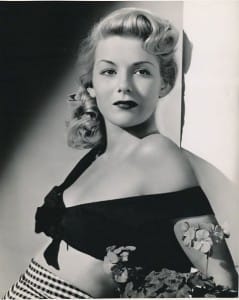 Cindy Garner born as as Dorothy Elizabeth Garner Gray  on December 21, 1924 in North Carolina to Douglas "Duff" and Eula Garner.
Publicized as the only newspaper gal who ever hit Hollywood, Cindy Garner hoped to become a mix of Lois Lane and Joan Crawford – but she was neither a top newspaper reporter during her brief writing career, nor did she ever become a great and respected actress. Yet, her story is an interesting one, very telling of how actresses tried to reinvent themselves to get to the top. Sometimes it worked, mostly it didn't, but it always makes for some good reading.
She attended elementary school in Robbins, where she got her first taste of acting – she appeared as a buttercup in the school play. She was bitten and there was no way back, but other things beckoned first.
Soon, her family moved to High Point, a bigger city, which gave Cindy more chance of developing her talents. She attended high school in High Point (sounds kinda poetic, doesn't it?). Her first real claim to fame (at least locally) came when she wrote a play that was later staged by the senior class of the school. Why didn't she act in it? In fact, Cindy's mind wasn't on acting that much back then – it was on writing.
Namely, Cindy, aged only 16, started writing a column for High Point Beacon, the weekly paper, named "Personality Parade". Ambitious and ready for more, she met a impressario via one of her colleagues from High Point Beacon, and he persuaded her to try her hand at Hollywood. She decided to leave her small town to make good in movies. Not long after, she married a soldier stationed in California and went to Los Angeles with him in 1943. She started from the bottom, doing menial work until her big break came.
Cindy worked as a cigarette girl at the Hollywood hotspot Ciro. Afterwards she would recall how she was once tipped 20$ for a 1$ cigar by Hollywood legend George Jessel. It was during her tenure here that a talent scout saw her and arranged for a screen test. She started acting in 1944 as a Goldwyn girl.
Cindy signed with Samuel Goldwyn, the collector of beautiful women who seldomly catapulted to stardom (of literary hundreds of girls who became Goldwyn girls, about 10 of them managed a more substantial career – I plan to profile more of them, so watch out).
Cindy signed with Samuel Goldwyn, the collector of beautiful women who seldomly catapulted to stardom (of literary hundreds of girls who became Goldwyn girls, about 10 of them managed a more substantial career – I plan to profile more of them, so watch out).
CindyGarner's first movie was Up in Arms, and as I already wrote countless of times, I'm not going to waste any more words on it. She again played a showgirl in Show Business, a pastiche of vaudeville numbers one after another, with no plot to speak of. Fans of Eddie Cantor could like it, but it's not a movie worth bragging about. Cindy finally landed in a more worthwhile movie with Since You Went Away, the classic family in wartime film. The brain child of David Selznick, its best known today for its august cast – Claudette Colbert, Jennifer Jones, Shirley Temple, Robert Walker, Joseph Cotten, Monty Wooley and so on. Showing the daily life of families left behind during WW2, it's sincere, well acted and written – if it is a bit syrupy on the edges, remember that it was made during the war, and people needed their Mrs. Minivers and other light-beats-the-dark characters very, very much. This is classic Hollywood at it's best – it's not a superbly inspired, artistic movie, but it's perfectly made for the source material and does it's job more than admirably.
Cindy was out of musicals and into serious movie fare now. She appeared in You Came Along, a pretty good romance movie. The cast is a mixed bag – Robert Cummings, Dom DeFore, Lizabeth Scott – but they pull it off nicely and we have a pretty mature, not too sugary romance set during WW2. This time it's not the domestic life but rather the aviation world. This was followed by A Scandal in Paris, one of the early Douglas Sirk movies. Headed by the king of wit and irony, George Sanders, it boasts a mid level cast (Carole Landis, Signe Hasso, Akim Tamiroff) but the main selling points are George himself and the witty, sparkling script laden with no many innuendos and moral ambiguity it was impossible for any censor of average intelligence to actually make out what is happened between the scenes and try to "trim" it. The result is a flawed but very amusing romp about the rise (and rise!) of a criminal mastermind – he becomes the chief of police! – and the very nature of morals and ethics. Sirk is a very European director, despite all of his later day US melodramas, and it's nowhere as obvious as here. Cindy's last movie under her contract was Till the End of Time – another movie dealing with the GIs-return-home scenario. While Since you went away was a general crowd pleaser (but very well made) – this ia a more subversive, less "sugary" movie, with a realistic plot and very complex characters. Yet, where Since you went away had a first class cast – here we have actors like Guy Madison, who, while a pretty boy by all standards, was a mediocre actor at his best. Luckily, we have Robert Mitchum and Dorothy McGuire to make it up for his shortcomings.
After her career soured in 1946, Cindy Garner took up modeling and became a fixture in the Los Angeles modeling scene, all the time hoping for another try at movies. She appeared in magazines like Esquire, Hit, Modern Romance, Modern Screen and so on. Also she allegedly appeared in productions staged for soldiers at army bases, sharpening her acting skills.
The patience paid off – after five years off the screen, she was again given the chance to act – Universal International signed her for a seven year contract in 1951. Her biography was slightly modified – hoping the public had short memory (and it does!), they claimed she had been in Los Angeles for just two years, doing modeling work, managing to neglect the fact that she was a Goldwyn girl once and that she has some movie experience. Not to mention her marital state (this was carefully hidden from the press, as they liked them young and unmarried back then)!
Her first UI movie appearance was in Week-End with Father, a cozy, simple family movie about two widowers with children who meet while going camping. Guess how it ends. Good cast is headed by Patricia Neal and Van Helfin. This is a kind of likable movie with no big depth that most of us probably enjoy to watch on occasion, and the kind that it's truly hard to stumble upon today. It really is a movie from different times – but that's okay, the world changes and the movie industry had to change with it… Cindy appeared as a stewardess in Meet Danny Wilson, a movie as similar to Week end with Father as it is different from it. The story (a nightclub singer tries to break into the nightclub circuit, and gets mixed up with some criminals and finds love along the way) may be more hard-boiled, but it's still a light early 1950s movie with plenty of charm and not too much depth. It's a very good vehicle for Sinatra – he gets to sing a bucket load of songs and the character he plays is an expy of himself (don't tell me you didn't get it :-P). Shelley Winters, a good but abrasive actress (her autobiographies are fun to read but one can easily notice that Shirley, despite all of her talents and wit, had a huge ego…), plays his romantic interest.
Her next movie was Flame of Araby is a typical desert epic Universal churned out frequently after achieving great success with his Maria Montez/Jon Hall pairings. Here we have Jeff Chandler and Maureen O'Hara, better actors than both Montez and Hall, but boy, this genre doesn't ask for great Shakespearean actors – it asks for some nice eye candy who doesn't look ridiculous while prodding around the desert. Chandler and O'Hara try and manage somehow – and the art direction and cinematography are wonderful, you can see they have plenty of experience in that department – but as always, the story and the overall dynamic fo the movie is lacking. All style, little substance.
Cindy finally got her credited performance in Red Ball Express, where she plays a Red Cross worker. The movie deals with behind the lines machinations in WW2 – and I have to say, I always forget that war takes a lot of logistics just as important to the war cause as hand to hand combat. Jeff Chandler is a leader of a motley crew of former truckers that supply the Allies with weapons in Europe during the height of war. The sure reason to watch this movie is however not the story but the fact that Sidney Poitier has a meaty role in it – and boy, Sidney is worth watching anywhere! The rest of the cast is plenty good with Chandler, a solid actors, of course Poitier, and Alex Nicol, Hugh O'Brian, Jack Kelly and so on. While the movie does steer towards the clichéd war movie of the 1950s, it's still a decent effort.
Cindy's last appearance was in a movie that debuted in cinemas after she left Hollywood, Ma and Pa Kettle at Waikiki, one of the last in the long running series, with our favorite hillbillies in, where else? but Hawaii.
That was all from Cindy as far as Hollywood goes.Cindy was 5'4", tipping the scales at just 100 pounds. She was renown for her fair complexion – she revealed that her secret was "washing your face with buttermilk every night before going to bed," an old advice given to her by her mother.
Cindy was married to a North Carolina soldier who was stationed in California, and she followed him there. The marriage was short-lived and they divorced before she started acting.
Cindy married to a Mr. Marshall in 1946 (I can't find any information about the man, but he was allegedly from a showbiz family and well off). Their daughter, Cathy Jo Marshall, was born on January 25, 1948.
In 1951, she lived alone in an apartment in North Hollywood (where was her daughter??), and was active in the war effort work – she traveled to the Fairfield-Susan Airbase near San Francisco every weekend to entertain the troops. She sang a lot of standards and did skits for them. Kudos to Cindy for thinking of the servicemen more than herself – when you work hard during the week, it's even harder not to give up and just stay at home during the weekend. Cindy was also a typical outdoor type of a girl: she excelled at swimming, tennis and bowling. She was also a decent painter, and always had a black cat in the house as a pet, proving she was not superstitious. Like most writers, she was an avid reader and collected books of verse.
When she signed with Universal International, she underwent an ambitious training programme: four days n the week she studies dramatics with coach Sophie Rosenstein, twice a week she takes ballet and tap dancing lessons, and gymnastics once a week. Hailing from North Carolina, she was a fine horsewoman, but still chose to take raiding lessons the studio gave her.
A funny think happened to Cindy and fellow starlet Judith Braun when they were traveling by train to Chicago. On the train was Francis X. Bushman, noted silent film player who had fallen into obscurity since the dawn of talking movies (he played Messala in the silent version of Ben Hur – and boy, did he look good in the roman grab!), and Betty Blythe, also a popular actress back then. When the foursome descended in Chicago, they were mobbed – but not by handsome young men wanting to see Cindy and Judith, but by grannies who went wild when seeing Bushman, the idol of their youth! Boy, I wish I was there to see it… Pretty funny…
Cindy appeared quite a lot in the papers in the early 1950s, and Universal International used her extensively for touring and publicity, and sadly not too much for movies. She had a nationwide tour with Frank Van, the famous ex boxer who served as a trainer for all Universal International concractees, and later one tour with the velvet voiced crooner, Kenny Baker. In 1952, we finally find out something about her private life – she was dating Rudy Ralston. The relationship lasted for about a year.
UI terminated her contract in 1952, and she made one last uncredited performance in 1955. Her marriage ended bitterly. Alone, with no job and with a daughter of support, Cindy fell on hard times and it took a toll on her psyche. By 1954, she was mentally unstable and it was decided that she and Cathy Jo would go back to North Carolina – Cathy to live with relatives, and Cindy to go under the care of her mother. Unfortunately, there was little that Mrs. Garner could do for Cindy, and soon she was in and out of mental hospitals, undergoing electroshock treatments and unable to work. I can only imagine how difficult the those years were for Cindy, but the only answer then is to push on, keep going, and actively work to get things to roll.
Things did get better as time went by and Cindy Garner managed to recuperate herself and continue to live normally. She married Jerry Gray in the 1960s or 1970s, and lived with him in High Point. Gray was born on February 2, 1935, making him 11 years Cindy's junior. They divorced after 1992.
Dorothy Elizabeth Garner Gray died on January 2, 2002, in Sanford, North Carolina.
Jerry Gray died on May 22, 2004, in Trinity, North Carolina.
Take a look at these other WWII Pin Ups: