Carole Landis
Carole Landis was born on New Year's Day in 1919 in Fairchild, Wisconsin, as Frances Lillian Mary Ridste. Her childhood was, for the most part, normal. Her father, a railroad mechanic, was of Norwegian descent and her mother was Polish. Her father left the family and Carole, her mother and an older brother and sister were left to fend for themselves.
Once she graduated from high school, she married Irving Wheeler, but the union lasted a month before the marriage was annulled because Carole was only 15 at the time. The couple remarried in August of 1934 and the two headed to California to start a new life. For a while she worked as a dancer and singer, but it wasn't long before the glitter of show business drew her to Los Angeles.
She won a studio contract with Warner Brothers, but was a bit player for the most part in such films as "A Star Is Born" (1937), "A Day at the Races" (1937), and "The Emperor's Candlesticks" (1937). The following year started out much the same way with more bit roles. Carole's career was stalled. By 1939, she was getting a few more into speaking roles, although mostly one-liners, and that year ended much like the previous two years with more bit roles, plus a divorce from Wheeler.
In 1940 she was cast as Loana in the Hal Roach production of "One Million B.C." (1940), where her beauty (and skimpy outfit) finally got her recognition, and her career finally began moving. She didn't star in big productions but began getting parts in B pictures. Although she had a fine acting talent, the really good roles were snatched up by the established stars of the day. Warner Brothers then sold her contract to 20th Century-Fox. She played "B" leads and "A" supporting roles in her first 12 Fox films, with a notable dramatic performance in "I Wake Up Screaming" (1941). Critics dwelled on her fresh-faced beauty, seldom mentioning her acting and comedy potential. Her busiest year ever turned out to be 1942, with roles in six films such as "Manila Calling" (1942), "The Powers Girl" (1943) and "A Gentleman at Heart" (1942). It seemed that her films never really attracted good critical reviews, and if they were reviewed at all it was in reference to Carole's breathtaking beauty.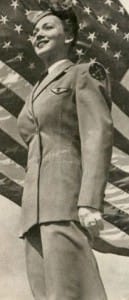 During World War 2 Carole spent more time visiting troops than any other actress. She took time off from her career and dedicated herself to the war effort. Carole toured the country selling war bonds and entertained soldiers all over the world. The press called her "a heroine" and "pride of the yanks". She joined the Hollywood Victory Committee and worked tirelessly with the Red Cross, the Naval Aid Auxiliary, and Bundles for Blue Jackets. Carole collected cigarettes for the soldiers, taught first aid, and donated blood as often as she was allowed. She never turned down a request to help and visited more than 250 military bases across the United States. When she went to Camp Bowie for a three day appearance in 1942 she danced with 200 soldiers, sang 15 songs, and signed 1000 autographs. In September 1942 she visited the Mare Island Navy Yard where she sang for the injured men in the hospital ward. Carole became one of the soldier's favorite pin-up girls and they nicknamed her "The Blonde Bomber". When she appeared on the Command Performance radio show one soldier requested that she "just sigh" into the microphone. In November 1942 Carole started a five month tour of Europe and Africa with Mitzi Mayfair, Kay Francis, and Martha Raye. She met her husband Tommy Wallace during this tour and she wrote about her experiences in her 1944 book "Four Jills In A Jeep". In the film version, "Four Jills in a Jeep" (1944), you can get a glimpse of the kind of talent she really had, and which Fox was wasting.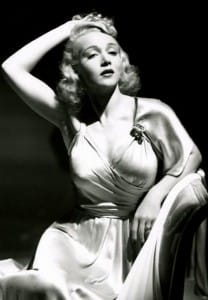 Carole Landis was a hostess at the Hollywood Canteen and she invited soldiers to her beach house every weekend. In June 1944 she began a U.S.O. tour with Jack Benny, singer Martha Tilton, harmonica player Larry Adler, and pianist June Bruner. During their camp shows Carole sang and jitterbugged with the boys. She spent much of her time visiting wounded soldiers and she wrote hundreds of letters to their families. Jack Benny said "You soon forgot she was Carole Landis, the sex symbol, the Hollywood star, the sweater girl, because she was a real human being and had a warm heart that spilled over with kindness".
During their two month tour of the South Pacific Carole almost died when she contracted malaria and amoebic dysentery. She was hospitalized for weeks, lost 15 pounds, and suffered with these illnesses for the rest of her life. Carole became an Air Raid Warden, a commander in the Aerial Nurses Corps, and an honorary Colonel in the American Legion. She auctioned off her favorite opal ring to raise money and she donated several movie projectors to bases overseas. Carole traveled more than 125,000 miles during the war. She performed for soldiers in Australia, Brazil, Algeria, Bermuda, Scotland, England, New Guinea, Ireland, Guam, and New Zealand. Carole said "Whatever we do for soldiers can't be enough in return for what they do for us. They are wonderful!"
By the middle 1940s her career was beginning to short-circuit. Her contract with 20th Century-Fox had been canceled, failed marriages to Willis Hunt Jr. and Thomas Wallace, her current marriage to Horace Schmidlapp on the skids, plus a battle with poor health spelled disaster for her professionally and personally. Her final two films were released in 1948, "Brass Monkey" (1948) and "Noose" (1948). On July 5, 1948, Carole committed suicide by taking an overdose of seconal in her Brentwood Heights, California, home. She was only 29 and had made 49 pictures, unfortunately, mostly forgettable ones. If Hollywood moguls had given Carole a good chance, she could have been one of the brightest stars in its history.
Carole Landis TRIVIA:
Measurements: 37C-24-35
Height:
5′ 5″ (1.66 m)
Nicknames:
The 'Ping' Girl
The Blonde Bomber
The Chest
Carole protested strongly and publicly against the nonsensical nickname "Ping Girl" (apparently short for "purring") coined by Hal Roach publicist Frank N. Seltzer in April 1940.
She knew how to fly a plane. Carole started taking flying lessons with her second husband Willis Hunt and got her pilots license in 1941. During World War 2 she flew for the Civilian Air Patrol.
In 1944 Carole appeared in ads for Chesterfield cigarettes. During her career she was also featured in ads for Lipton tea, Schaefer beer, Jergens lotion, Sinclair oil, and Nescafe coffee.
On her family's official web site they claim that Carole's death was not a suicide, they believe someone murdered her.
Check out these other WWII Yank Magazine Pin Ups: