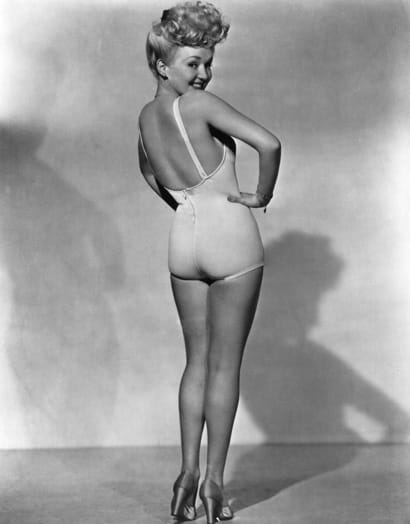 Elizabeth Ruth Grable ( Betty Grable) was born on December 18, 1916, in St. Louis, Missouri. Her mother Lillian was a stubborn and materialistic woman who was determined to make her daughter a star. Elizabeth, who later became Betty, was enrolled in Clark's Dancing School at the age of three. With her mother's guidance, Betty studied ballet and tap dancing. At 13, Betty and her mother set out for Hollywood with the hopes of stardom. Lillian lied about her daughter's age, and Ruth landed several minor parts in films in 1930, such as "Whoopee!" (1930), "New Movietone Follies of 1930" (1930), "Happy Days" (1929/I) and "Let's Go Places" (1930). In 1932 she signed with RKO Pictures. The bit parts continued for the next three years. Betty finally landed a substantial part in "By Your Leave" (1934). One of her big roles was in "College Swing" (1938). Unfortunately, the public didn't seem to take notice. She was beginning to think she was a failure. The next year she married former child star Jackie Coogan. His success boosted hers, but they divorced in 1940. When she landed the role of Glenda Crawford in "Down Argentine Way" (1940), the public finally took notice of this shining bright star. Stardom came through comedies such as "Coney Island" (1943) and "Sweet Rosie O'Grady" (1943).
The public was enchanted with Betty. Her famous pin-up pose during World War II adorned barracks all around the world. With that pin-up and as the star of lavish musicals, Betty became the highest-paid star in Hollywood. After the war, her star continued to rise. In 1947 the US Treasury Department noted that she was the highest paid star in America, earning about $300,000 a year – a phenomenal sum even by today's standards. Later, 20th Century-Fox, who had her under contract, insured her legs with Lloyds of London for a million dollars. Betty continued to be popular until the mid-50s, when musicals went into a decline. Her last film was "How to Be Very, Very Popular" (1955). She then concentrated on Broadway and nightclubs. In 1965 she divorced band leader Harry James, whom she had wed in 1943. Betty died July 2, 1973, of lung cancer at age 56 in Santa Monica, California. Her funeral was held July 5, 1973, 30 years to the day after her marriage to Harry James – who, in turn, died on what would have been his and Grable's 40th anniversary, July 5, 1983. Her life was an active one, devoid of the scandals that plagued many stars in one way or another. In reality, she cared for her family and the family life more than stardom. In that way, she was a true star.'
Betty Grable TRIVIA:
Betty Grable's measurements: 34 1/2-24-36 (self-described 1940), 36-24-35 (at time of her famous WWII pin-up poster), 36-23-35 (at a fit 112# in 1958), (Source: Celebrity Sleuth magazine)
Height: 5′ 4″ (1.63 m)
Wore size 5A shoes. (Source: Celebrity Sleuth magazine)
Had a relationship with George Raft for 2-1/2 years, and ended it because he could not get a divorce from his Catholic wife.
Was a somnambulist (sleep-walker)
Did Playtex 18-hour Shortie commercials in the 1960s using her famous pinup pose — purportedly because she needed the money after her husband had spent her savings.
She and Harry James had two daughters, Victoria Elizabeth James (b. March 3, 1944) and Jessica James (b. May 20, 1947).
Take a look at these other WWII Posts: