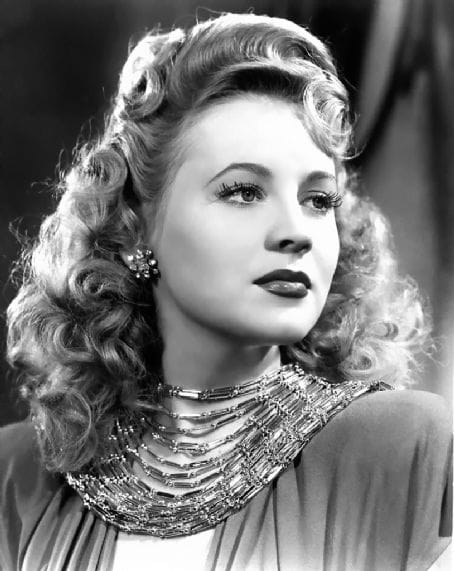 The ever-lovely, poised and vivacious blonde Anne Jeffreys was born Anne Carmichael on January 26, 1923 in 1923 in Goldsboro, North Carolina. Firmly managed by her mother, she trained in voice at a fairly early age and received her first break in the entertainment field after signing with the John Robert Powers agency in New York as a junior model. In the interim, she prepared herself for an operatic career and made her debut in a production of "La Boheme" in 1940. The following year, however, Anne won a role in the musical review "Fun for the Money" that was to be staged in Hollywood. This, in turn, led to her first movie role in the tuneful Rodgers & Hart adaptation of "I Married an Angel" (1942) starring her singing idols Nelson Eddy and Jeanette MacDonald in their last cinematic pairing.
Anne Jeffreys was put under contract respectively by Republic then RKO studios, Anne was utilized as a plucky heroine in a flux of 40s "B" westerns and crimers opposite such stalwarts as Robert Mitchum and Randolph Scott. Also among her roles was the part of Tess Trueheart in the "Dick Tracy" series with Morgan Conway as the steel-jawed hero, and a co-star role opposite Frank Sinatra in the war-era musical "Step Lively" (1944). None of these, however, were able to propel her into the "A" ranks and her film career quickly dissipated by the end of the 40s. In the meantime, Anne continued to prod her vocal skills with symphonic and stage appearances including "Tosca" at the Brooklyn Opera House, Kurt Weill's "Street Scene" and the Broadway musical "My Romance".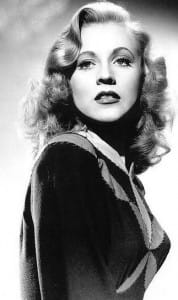 Divorced in 1949, Anne met handsome actor Robert Sterling during an extended run (887 performances) of "Kiss Me Kate" on Broadway. She and Sterling married in 1951 and had three sons. In an attempt to revive their flagging careers, the singing couple toured nighteries and hotels in the early 1950s with a highly successful club act. This led to them being cast as sly, engagingly cavalier spirits in the classic "Topper" (1953) sitcom. Anne played Marion Kirby ("the ghostess with the mostest") alongside Sterling's dapper husband George. Successfully, undertaking the ectoplasmic roles originated on film by Constance Bennett and Cary Grant, the two were an absolute hit as the party-hearty ghosts who reclaim their home to the dismay of current owner Leo G. Carroll.
Anne and Robert weren't able to recreate that same kind of magic when they subsequently co-starred in the short-lived series "Love That Jill" (1958). In the 1960s Anne semi-retired to raise her family, but occasionally took on musical leads ("Camelot", "The King and I") both on Broadway and in regional productions. She later returned full time to TV and became known for her chic, gregarious, sometimes double-dealing matrons on soap operas ("Bright Promise" (1969) and "General Hospital" (1972)). She was nominated for a Golden Globe award for her supporting work in "The Delphi Bureau" (1972) adventure series, and appeared occasionally as the mother of David Hasselhoff on "Baywatch" (1989).
Unlike her husband, who retired decades ago (he died in 2006), Anne remains a tireless performer past age 80. Still quite a beauty, she has been recognized over the years for her civic and humanitarian efforts.
Take a look at these other WWII Pin Ups: